iEARN-Morocco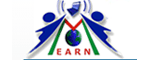 iEARN-Morocco is a registered NGO and is working with a network of schools throughout the country. Project work is in Arabic, French and English.
Website
Contact Information
Jul 26, 2017
The iEARN International Conference and Youth Summit took place from July 17-22, 2017 in Marrakech, Morocco and brought together more than 210 educators and 90 youth from 43 countries.
Read More
Mar 17, 2017
Learn all you need to know about the iEARN Conference and Youth Summit in Morocco in July, 2017 by viewing the videoconference recording.
Read More