iEARN-Morocco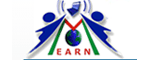 iEARN-Morocco is a registered NGO and is working with a network of schools throughout the country. Project work is in Arabic, French and English.
Website
Contact Information
Jun 02, 2015
Join students in Morocco and the USA for a live presentation of their media projects and exchange reflections.
Read More
Jan 16, 2013
On February 1-2, MEARN will be hosting a workshop for 15 public school English teachers, with a focus on how to integrate iEARN and project based learning into their teaching.
Read More