Natural Disaster Youth Summit 2015 meets in Toyota City, Japan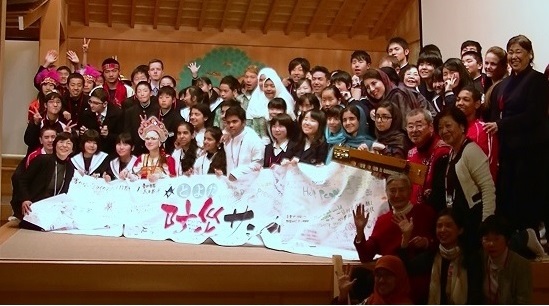 From January 15-18, 2015, the Toyota Disaster Prevention Festa committee and Natural Disaster Youth Summit (NDYS) Committee hosted the "2015 Natural Disaster Youth Summit in TOYOTA" in Toyota City, Aichi, Japan.
Participants from eight countries gathered for the event. As part of the Summit, participants made a school visit to a Junior High School in Toyota City, made oral presentations about their research, exhibited their Disaster Safety Maps, and discussed the contents of NDYS 2015 Declaration.
On January 17, students adopted the NDYS 2015 Declaration at Noh-gaku Do, which is a traditional Japanese style theater.
A warm welcome from Toyota city gave all participants unforgettable memories. With the passionate involvement of all members, we had a successful and delightful summit. The next NDYS gathering will be held in Niigata, Japan in August 2016.
NDYS 2015 Declaration: "The activity of disaster prevention is a border-less project. Preventing disasters is our responsibility too. We only have one earth to share, so let's maintain "The standards of tomorrow, today."
Related Links