Online Courses
Several iEARN country programs offer online professional development opportunities for educators. While the course offerings vary, they share a common goal of supporting educators and students to use technology to enable collaborative project work.
Below are course offerings offered by iEARN-Argentina, iEARN-Taiwan and iEARN-USA.
iEARN-Argentina/TELAR/Fundación Evolución (FE)
Fundación Evolución (FE) es una organización argentina sin fines de lucro que desde 1989 promueve la integración pedagógica de las Tecnologías de la Información y Comunicación en ámbitos educativos. La FE diseña e implementa iniciativas de alcance nacional, regional e internacional en Formación y acompañamiento de educadores e instituciones interesados en la integración de las TIC en ámbitos educativos formales y no formales; Generación de comunidades virtuales de aprendizaje y colaboración; Formación de mujeres y varones jóvenes con el propósito de desarrollar capacidades tecnológicas para aprender y trabajar; Producción, adaptación y localización de contenidos educativos; Investigación acerca de aspectos del aprendizaje y la enseñanza con TIC y los contextos en los que se desarrollan; Asesoramiento a organismos y gobiernos para la implementación y evaluación de iniciativas pedagógicas de integración de TIC. Para más información: www.fundacionevolucion.org.ar

iEARN-Taiwan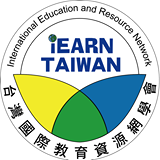 Since 2014, iEARN-Taiwan has offered an online professional development course to Taiwanese K-12 teachers who are beginners of iEARN twice a year. This five-week course is designed to give participants a solid foundation in integrating project-based learning and iEARN collaborative projects into their respective classes. After meeting all the requirements of the course, participants will receive certificates from iEARN-Taiwan and twenty-hour learning credits issued by the Ministry of Education. This course is conducted via both iEARN-Taiwan Online Professional Development Moodle System and Adobe Connect. Course offered in Chinese.

For more information, see the iEARN-Taiwan website.
iEARN-USA

Developed in 2001, iEARN-USA's online course program guides K-12 educators in evaluating global projects and aligning them with state and/or national curriculum standards as part of an integrated project plan. Through small-scale implementation of a project, course participants see first-hand how to incorporate global project work into their classroom and curriculum. Through their course participation, educators meet and network with colleagues around the world who can make teaching and learning more fun and interesting throughout year. Courses offered in English. Visit the iEARN-USA website for more info.