Join iEARN at The Global Education Conference 2016
Nov 03, 2016 I Share: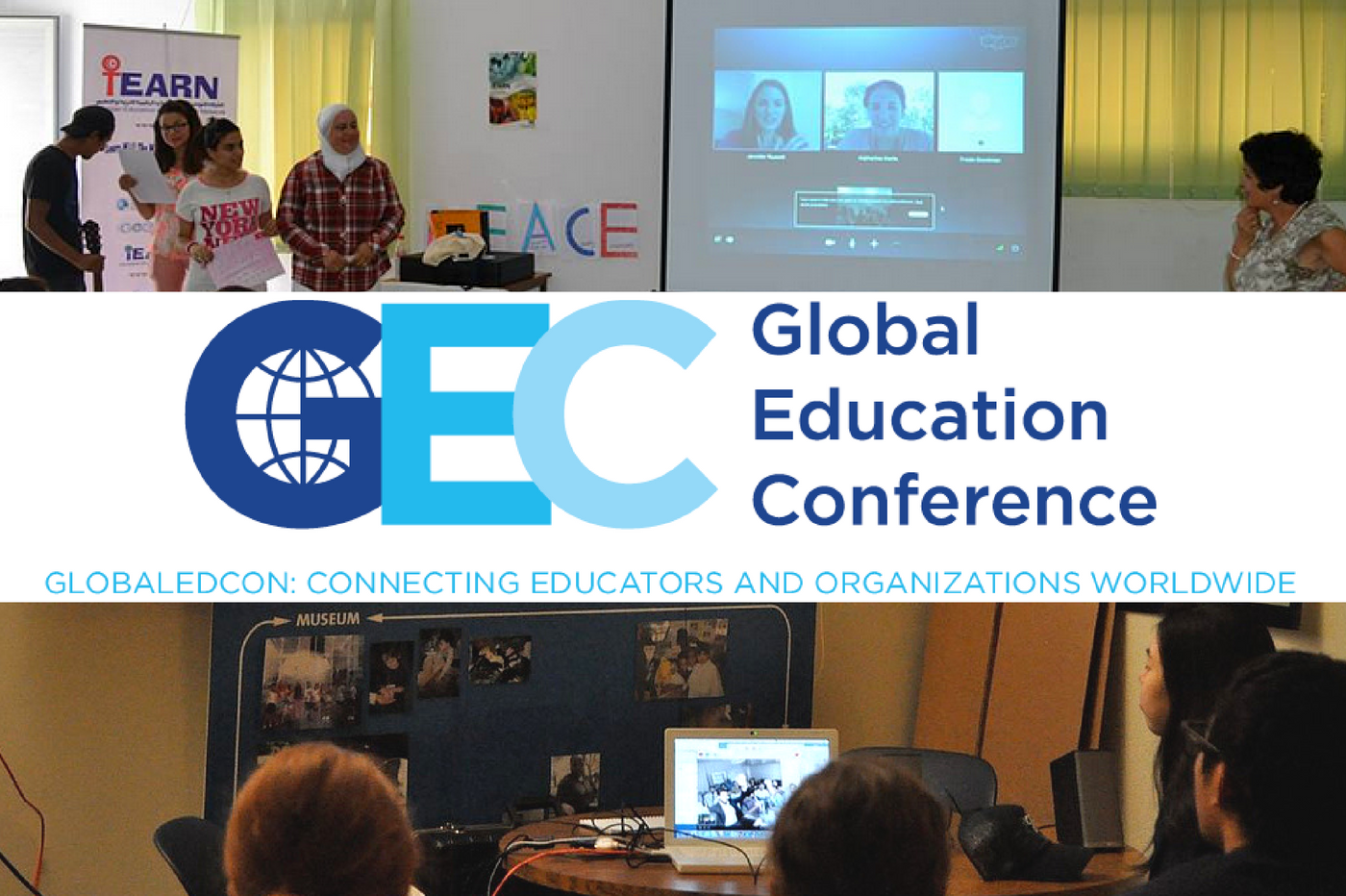 Join iEARN students, educators, and project facilitators for iEARN at the Global Education Conference from November 13 - 16, 2016. This event is a free, online conference bringing together educators and students together from around the world. Join us in a session facilitated by teachers and students this week to celebrate global project work.
The following is an ongoing list of sessions and presentations featuring iEARN projects and exchange experiences. Click on the links below to join a session on Blackboard Collaborate! View all session on the Global Education Conference site and/or the full schedule of sessions. All session times below are listed in GMT +0
The Global Impact of iEARN: Shaping Global Education through Collaboration
Sun, November 13, 8pm – 9pm GMT +0
iEARN Executive Council: Allan Kakinda, iEARN Uganda, Hela Nafti, iEARN Tunisia, Jennifer Russell, iEARN-USA
The iEARN Executive Council invites teachers and students from around the world to celebrate global, collaborative projects that enable young people to make a meaningful contribution to the health and welfare of the planet and its people. This session will present an overview of the past, present, and future of iEARN (The International Education and Research Network), celebrate our impact of global education, and how iEARN is engaging youth to collaborate towards the UN Sustainable Development Goals to transform our world.
Host Family Experiences in Study Abroad
Sun, November 13, 11pm - 12am GMT +0
Alexi Kim, NSLI-Y Korea Alumna
Four alumni from the YES and NSLI-Y programs will share stories and tips from their host family experiences. Session attendees will not only get insight into the YES and NSLI-Y exchange programs, but will also learn about similarities and differences in host family experiences around the world. This session will explore: similarities and differences of host family experiences in the U.S. and abroad; the value of living with a host family in a new culture and language; how to be a successful exchange student living with a host family.
Living Language: Supporting Adolescent Learners in Immersion Environments
Mon, November 14, 12pm – 1pm GMT+0
Kripa Bhagat, Resident Director for NSLI-Y Taiwan
As the world becomes more connected, more and more young people are seizing the opportunity to experience living in a different country or learning a different language. While the concept of language immersion has been very successful for adults, how do the challenges of living in language fit into the challenges of growing up in today's society? How does cultural competency play a part in a students' formative years? Let's talk about our responsibility as globally-minded educators to support and understand the relationship between language learning and social development among middle school and high school students both at home and abroad.
International Book Club: Getting Readers Connected
Mon, November 14, 2pm – 3pm, GMT +0
Fay Stump, Library Media Specialist, John Handley High School, Winchester Public Schools, VA
Each of iEARN's 100 projects relates to one or more of the United Nations Sustainable Development Goals. Many books of various genres also relate directly to one or more of the SDG's. An iEARN project that promotes reading of such books is the International Book Club. This session will provide a brief introduction to this project whose premise is that knowledge is powerful in bringing about positive changes in our world. Participants will be encouraged to share a book they've read that would be a good choice for our International Book Club. Your recommendations will then be included in a suggested reading list on the project site. Help change the world through your reading!
Mon, November 14, 5pm – 6pm GMT +0
Ruty Hotzen, iEARN-Israel
Students in different parts of the world plant bulbs together and collect data on various parameters (latitude, longitude, sunlight, temperature etc.) and track when they blossom. Classrooms around the world choose Daffodil and/or Tulip bulbs to plant during the same week in November. Students will be asked to collect temperature data throughout the experiment and report to the group – in addition they will report when the blooms appear etc. The project can be as involved or as simple as your class needs it to be.
My Identity, Your Identity Culture Project: Global Online Collaboration in Action
Mon, November 14, 10pm - 11pm GMT +0
Nicolle Boujaber-Diederichs, iEARN USA and Lake Nona High School, Orlando, Florida, USA, Said Belgra, iEARN Morocco, Asma Al Beriki, iEARN Oman
The presentation/discussion "My Identity, Your Identity Culture Project: Global Online Collaboration in Action" will focus on the structure, content and benefits of the online web forum project--My Identity, Your Identity. By using the iEARN (International Education and Resource Network) online platform, this project encourages students to explore and research the elements that form their identities and share their findings with students in other countries. The project helps students realize the importance of their traditions and value of their culture in their country and how the students participating from different countries are more the same than different. Participating countries include: Oman, USA, Chile, Morocco, Belarus, Pakistan, United Arab Emirates, Ukraine, Russia, Taiwan, Saudi Arabia, United Kingdom etc.
Sharing International Exchange through Multimedia
Mon, November 14, 11pm - 12 am GMT +0
Elaine Huang, NSLI-Y Korea Alumna
Four alumni from the YES Abroad and NSLI-Y programs will share examples of multimedia that they created to capture their experiences while studying abroad in Morocco, Indonesia, and Korea. Session attendees will not only get insight into the YES Abroad and NSLI-Y exchange programs, but will also learn about how to use videos and other multimedia to share experiential learning with a wider audience.

Using Digital Media for Global Collaboration: A Look at Two iEARN Projects
Tue, November 15, 1pm – 2pm GMT+0
Chris Baer, Arts and Technology Teacher, iEARN Project Facilitator and Curriculum Developer
How can students better learn to describe, both visually and in writing, their own lives from a global context? How can students learn authentically about the real world – the ordinary as well as the extraordinary – through the eyes of their peers?
Two projects, One Day in the Life and Alternate Reality promote intercultural respect, break down stereotypes, and foster empathy between students who come from very different communities and cultures. Both of these projects take place on the iEARN (International Education and Resource Network) online web platform. One Day in the Life is a project in which students exchange photographs/images describing days in their lives, and then make cross-cultural comparisons. Students may discuss aspects of a typical day (like visiting the market or going to school) or they may document special days (like vacations, birthdays, celebrations, or holidays). If our students can't physically walk in one another's shoes, what if they "Photoshopped" each other in? In the second project, Alternate Reality, students create "false memories" by Photoshopping student images into each others' schools.
In this session, the presenters will discuss the structure, content, and benefits of these projects. Students and educators currently in the BRIDGE Program will share their experience in these global collaborative projects.
Global Collaboration Creates Bridges for Global Citizens
Tue, November 15, 2pm – 3pm, GMT +0
Kheira Mezough, Country Coordinator, iEARN Algeria
Students from Hammou Boutlelis High School gathered information about [email protected] achievements since it started partnership with iEARN. As their high school was the starting point of such a partnership, they care to give credit to all the participants both teachers and students from the city and the country, to share with other teachers and students their belief in the impact of global collaboration projects. In their presentation, students will share what they learned with iEARN and [email protected] They will also overcome the challenge of public speaking in front of the global community. Finally, they will share their new ideas, ambitions and suggestions on promoting more global collaboration opportunities in Algeria and particularly in public education.
Talking Kites Around the World

Tue, November 15, 4pm – 5pm, GMT +0
Ruty Hotzen, iEARN Israel
Students make kites to fly as a massive tribute dedicated to advancing the cultural and social dialog, a symbol of bridging the gap and understanding the "other." This will hopefully become a continuous tradition of flying kites with personal and group images of our dreams for a better world, a world of co-existence, tolerance, acceptance of the "other" and peace.wide spectrum of groups, adults, children, Israeli, Palestinian, citizens around the world coming together and each person will hold aloft a kite which he or she has decorated, as a symbol of dialogue, brotherhood and understanding of the other side. Each participant will be flying a kite with his or her thoughts, fears, dreams, and hopes." Kites will be flown on the March Equinox. In 2017, kites will be flown on and around March 21, 2017. The project is dedicated to Janusz Korczak, who advocated for the rights of children.
Tue, November 15, 5pm – 6pm, GMT +0
Dr. Daniela Munca, iEARN Moldova
"EFL Youth Voices Media" Project aims to provide EFL (English as a Foreign Language) teachers and their students with creative, non-traditional, cutting-edge educational tools meant to foster student creativity and engagement through digital storytelling.
Collaborative learning through an online magazine -iMagzz - Making Myself Heard
Wed, November 16, 8am – 9am, GMT +0
Geeta Rajan, Head, International Affairs, St.Mark's Sr.Sec.Public School, India
Since projects run by iEARN emphasise on the United Nations Sustainable Development Goals, our online magazine will also focus on one of the very relevant issues today.We shall talk about Climate Change which means all environment related issues will be covered.Imagzz Making Myself Heard will give an opportunity to students from across the globe to voice their opinions,discuss issues,sensitise others and even showcase their efforts This session will provide a brief introduction to this project and prove that collaborative learning through a digital magazine is interesting,informative and even fun.Participants will be encouraged to share their efforts taken to prevent the environment from further deterioration. We shall use your work in the magazine. We know we can make a difference!!!
Partners of the Americas and iEARN: The Power of Connections and International Collaboration in Education
Wed, November 16, 9am – 10am, GMT +0
André Hedlund, CCBEU and Cengage Learning (National Geographic + TED Talks) Brazil
International organizations offer a number of possibilities to engage in collaborative work. Two of the most impactful organizations fostering understanding, cultural and educational exchange are Partners of the Americas (POA) and iEARN. The first connects leaders and professionals in the Americas to work on projects that serve the community, through voluntary service, and change lives. The latter promotes a range of one-to-one and plural projects, as well as teacher forums to get classrooms of the world together through physical and online tools. What else do they have common? Project-Based Learning (PBL). Another facility these organizations provide is networking. Through influential connections around the globe both students and teachers can work on projects, present ideas and propose solutions to tackle global issues. POA and iEARN bring people closer, thus, increasing the likelihood of anyone to come across innovative ways to merge the young and more experienced minds. The aim of this talk is to demonstrate how my experience in Wyoming on the Teacher-in-Residence grant from POA and the Capoeira Project in Goiânia in tune with iEARN's "Staying Healthy" project can revolutionize students' learning experience and better prepare them for the challenges of this century as global citizens who work on planet-related issues together. At the end of the session, an open discussion on the importance of the consolidated POA + iEARN association will take place and participants will be able to brainstorm about how it can contribute to their students' awareness of their role as global citizens and critical thinkers.
Photojournalism for covering social issues in Tajikistan – raise the youth voice
Wed, November 16, 11am – 12pm GMT +0

Firuz Baratov, iEARN Tajikistan
This session will provide information about photjournalism and the role of youth on covering social issues through immage and the role of social projects on empowering youth in Tajik society.

Wed, November 16, 12pm – 1pm, GMT +0
Freda Goodman and Ruty Hotzen, iEARN Israel
Where do the children play and teenagers hang out in your neighborhood or community? Do they have pleasant and peaceful surroundings? Do they have a place to grow, explore, feel confident, and develop their skills in safety? Cat Stevens wrote and performed a song with this name during the turbulent sixties. David Broza sings this still relevant song currently and engages in youth projects. IEARN teachers and students who join our project will explore these questions with photos, videos, and prose. Where possible, they will do community service to improve the places in their community where children and youth play.
Impact of STEM Learning Program on Mainstream Education
Wed, November 16, 2pm – 3pm, GMT +0
Alema Nasim, Society for International Education - iEARN Pakistan
STEM Based Learning program is a curriculum enrichment approach to education that promotes design thinking through applied approach. Rather than teaching all subjects in isolation, STEM integrates them into a cohesive learning program based on real world issues. SIE has been doing this program in collaboration with LUV since 2014 and has received very positive response from schools in terms of students learning. This session will focus on the impact of STEM enriched courses on mainstream education and how it helps improve students learning by engaging them in practical activities, build a model of collaboration to develop 21 st century skills in students.
Cultural Package Exchange Project
Asma Al Beriki, Ateka School for Post Basic Education
Cultural package exchange project is a way to build a bridge between two cultures by exchanging a box full of cultural items. The presentation will start with a description of the project and how it works. There will be an exhibition of past participants work and list of things to be done during the project. The presentation will present the iEARN forum for the project and how schools are paired.