New Teachers Guide for Online Collaboration and Global Projects
Oct 17, 2013 I
News
I Share: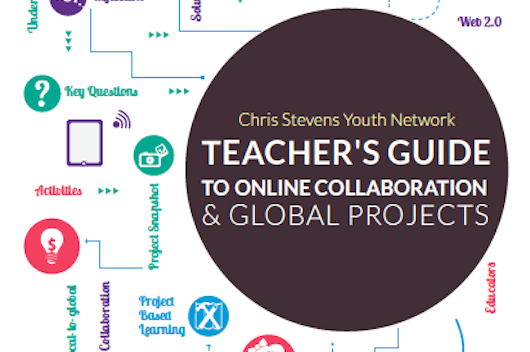 iEARN-USA announces the launch of a new resource for educators to design and implement global, collaborative projects. Through the Chris Stevens Youth Network (CSYN), the U.S. Department of State's virtual exchange program to connect schools in the U.S. with schools in the Middle East and North Africa, this new Teacher's Guide to Online Collaboration & Global Projects will help educators and youth worldwide collaborate on global themes.
This resource is designed to guide educators through the steps of planning and conducting an online, collaborative project with classrooms around the world. The guide includes nine modules to help teachers plan and develop a Chris Stevens Youth Network project through iEARN. Each module includes reflection activities to develop a project plan and additional resources to further explore a topic. The nine modules guide through:
Developing a project idea and selecting a CSYN project;
Making a project plan;
Building relationships with educators and students through digital dialogue;
Using technology tools in your global project;
Engaging the community in your classroom project;
Presenting, exhibiting, and assessing student learning in global projects.
The Chris Stevens Youth Network Teacher's Guide to Online Collaboration & Global Projects is now available to view and download online!
Related Links >